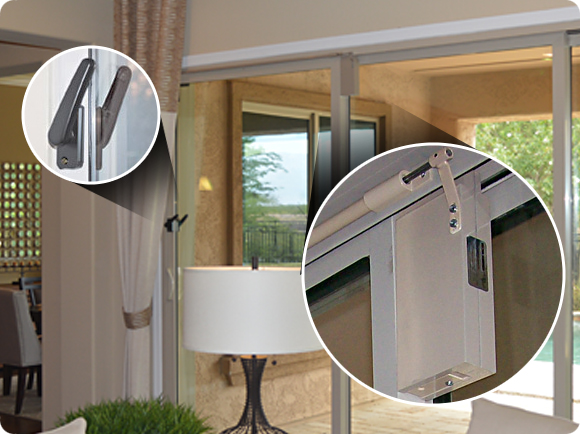 Door Closing Systems patented Sliding Door Closer – The Ultra Glide works to improve safety and property efficiency.
This patented device (US Patent #7124469) can be used on virtually any type of sliding door. The Ultra Glide Sliding Glass Door Closer is a worthwhile investment for any homeowner that is looking to reduce energy costs during any season and is also a smart way to improve safety and security in the home. Every home needs a door closer for energy efficiency.
Ultra Glide saves energy by self-closing your sliding door every time it's left open.
The Ultra Glide closer system will not be damaged if you push the door shut.
Ultra Glide will not prematurely damage the rollers and track of your patio door.
The Ultra Glide system is available in three colors to work with existing sliding patio doors.
With the rising cost of energy and a growing concern for the environment, using technology like the Ultra Glide Sliding Door Closer can keep homeowners comfortable while keeping energy use down. Busy families often tend to leave doors open while running in and out of the house, allowing air conditioned or heated air to escape. A quick installation of a sliding door closing system can make life a whole lot easier and more efficient for any homeowner. Sliding door closers self-close the sliding glass doors every time they are left open. The door will close securely and homeowners can rest assured that energy dollars are not escaping through the sliding door.
The Ultra Sliding Door Closer can be the first line of defense in family pool safety and meets the pool safety codes in many municipalities. Sliding door closers, when combined with our self-latching device manufactured by Door Closing Systems, can prevent children from open a sliding glass door on their own. Installing the latch along with the company's patented Ultra Glide self-closing device ensures that children stay safely inside the house.
Sliding glass door closers also keep unwanted visitors out of the house and give homeowners peace of mind. Sliding doors unintentionally left open are an invitation for wildlife or other security threats to enter the home. The Ultra Glide Sliding Door Closer improves safety and security in any home.
*Ultra Glide is distributed in Phoenix, AZ by Door Closing Systems. In the Phoenix Metro area the Ultra Glide is installed by our own trained and licensed contractors.
Door Closing Systems is looking for U.S. Distributors for the Ultra Glide Sliding Glass Door Closer. Contact us for more information about the Ultra Glide and distributor information.*